Quand nous avons appris que Pixar et Disney travaillaient sur un quatrième épisode de TOY STORY, nous nous sommes dit qu'il était impossible de faire aussi bien que le troisième volet. Eh ben, nous avions tort: TOY STORY 4 – qui clôture la saga – est brillant, drôle, émouvant, entraînant, intelligent et fait preuve d'une imagination débordante, jusqu'à la toute dernière image du générique de fin. Ah oui, il y a Keanu Reeves aussi, qui ne tue…personne! Les 5 étoiles sont donc amplement méritées. Il paraît qu'il y a des énergumènes qui n'aiment pas le cinéma d'animation, ceux-là pourront se rabattre sur une charmante comédie romantique, musicale ET réussie de Danny Boyle, YESTERDAY, sur un monde sans les Beatles. UNTOUCHABLE, un documentaire sur le producteur prédateur Harvey Weinstein nous intéresse également très fort. Pour le reste, ni BRIGHTBURN ni YVES nous font vraiment trépigner d'impatience. Le cinéma indien est de nouveau à l'honneur avec ARTICLE 15, tandis que THE SECRET LIFE OF PETS 2 arrive pour une série d'avant-premières. Et n'oubliez pas: Dehors il fait chaud, au cinéma il fait frais. Jean-Piere THILGES
TOY STORY 4 *****
Animation numérique Pixar; Réalisateur: Josh Cooley; avec les voix (v.o.) de Tom Hanks, Tim Allen, Tony Hale, Wallace Shawn, Keanu Reeves, Joan Cusack, Laurie Metcalf, ea.; Scénaristes: Stephany Folsom, Andrew Stanton, ea.; Musique: Randy Newman; USA 2019, 100 minutes.
Woody, Buzz et les autres jouets d'Andy appartiennent maintenant à la petite Bonnie. La jeune fille, très timide, doit affronter une épreuve difficile : l'entrée à la maternelle. Lors de sa journée d'intégration, elle fabrique Fourchette (Forky) avec un ustensile en plastique. Dès lors, il devient un jouet. Malgré les efforts de Woody pour intégrer Fourchette au groupe, ce dernier retourne continuellement dans la poubelle, là où, croit-il, est sa vraie place. Quand il disparaîtra lors d'un voyage en camping-car, le cowboy partira à sa recherche….
Mes lecteurs savent à quel point je n'aime pas les suites. Et je dois avouer que j'ai eu peur quand Pixar avaient annoncé un quatrième et sans doute dernier épisode de la saga "Toy Story", qui avait commencé en 1995, avec le triomphe que l'on saît…et qui a ajouté deux suites, dont chacune était meilleure, plus drôle et aussi plus émouvante que la précédente. Et bien, attendez-vous à un choc, car Pixar a une fois de plus réussi son coup, puisque le 4 est aussi bon, aussi drôle mais sans doute plus émouvant encore que le 3. L'arrivée de Forky/Fourchette (le jouet le plus "trash" et le plus écologiquement incorrect de la saga) crée évidemment la zizanie au sein du groupe de jouets. Et c'est sa disparition qui est à l'origine d'une aventure, où les péripéties deviennent de plus en plus folles, et où les gags – visuels et verbaux – pleuvent de partout. Un caméo de Keanu Reeves (celui que j'avais détesté il y a deux semaines dans "John Wick 3") vient ajouter un grain de folie supplémentaire (et québecois) à un  film, qui n'arrête pas  de surprendre par la qualité de son écriture, la brillance de son animation et la quantité incroyable de blagues. Et restez assis dans votre fauteuil jusqu'à la toute dernière im age du film, car le générique de fin prolonge la folie jusqu'au logo final de Pixar. Le studio a d'ailleurs annoncé que les deux prochains long-métrages seront des oeuvres originales et non des suites. C'est une bonne nouvelle, mais je peux vous garantir que cette suite-ci, c'est de la dynasuite! 5 étoiles bien tassées!  (jpt)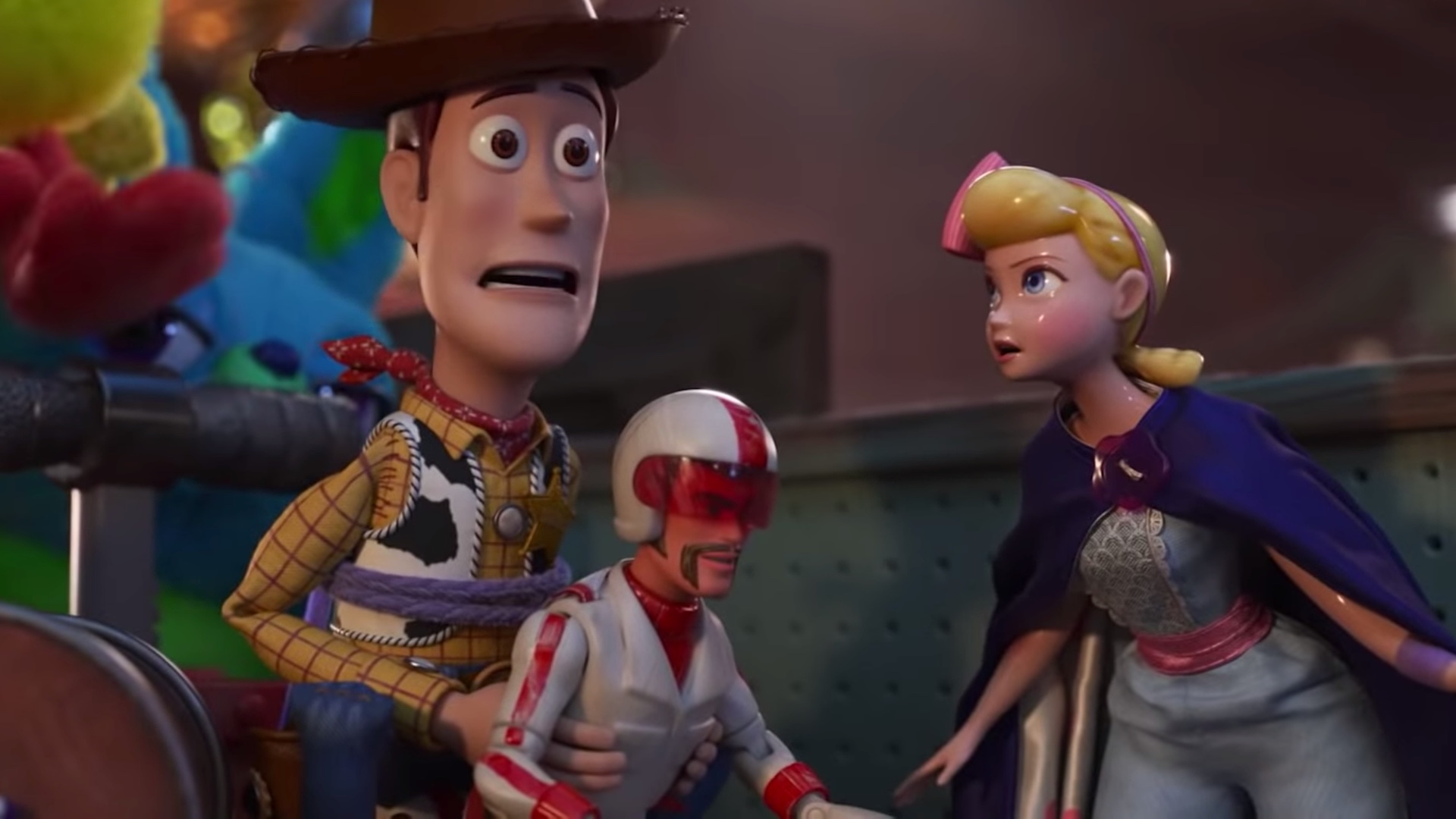 The number 4 typically doesn't bode well for film franchises, which understandably has quite a few "Toy Story" fans feeling nervous. When it comes to constructing dramatic arcs across multiple movies, trilogies seem to offer a natural cycle, after which creatives must decide whether to reinvent (see "Fast & Furious," "Mad Max: Fury Road") or carry on toward Episodes 5, 6 and 7, hoping not to derail things in the process (à la "Superman IV: The Quest for Peace" and "Jaws: The Revenge"). Those are the stakes facing "Toy Story 4," but this is Pixar we're talking about — a place where follow-ups level up — and this series' quaternary installment adds so much that audiences will find it hard to imagine the saga without it. After all, Pixar is the kind of studio that so believes in doing right by its properties, it scrapped Disney's slapdash direct-to-video plans for "Toy Story 2" in order to make a theatrical sequel that surpassed the original. A decade later, "Toy Story 3" further expanded on the fundamental questions of what it means to be a toy, ending with an unforgettably emotional scene in which college-bound Andy passed his playthings on to a new child, Bonnie. For many, the exploits of Woody (Tom Hanks) and Buzz Lightyear (Tim Allen) ought to have ended there. This is no cash-grab continuation, however, but an organic and intuitive new chapter that enriches our understanding of the characters, offering a different and more satisfying kind of closure for their collective journeys — which involve Bonnie's first day of kindergarten, a family road trip and the discovery of an antiques shop where sad old toys hope for a second chance. (Peter Debruge/Variety) 
YESTERDAY ***
Comédie musciale et romantique; Réalisateur: Danny Boyle; avec Himesh Patel, Lily James, Ed Sheeran, Kate McKinnon; Scénariste: Richard Curtis; Directeur/Photo: Christopher Ross; Musique: Daniel Pemberton; Chansons: The Beatles, Ed Sheeran, ea.; GB 2019, 117 minutes.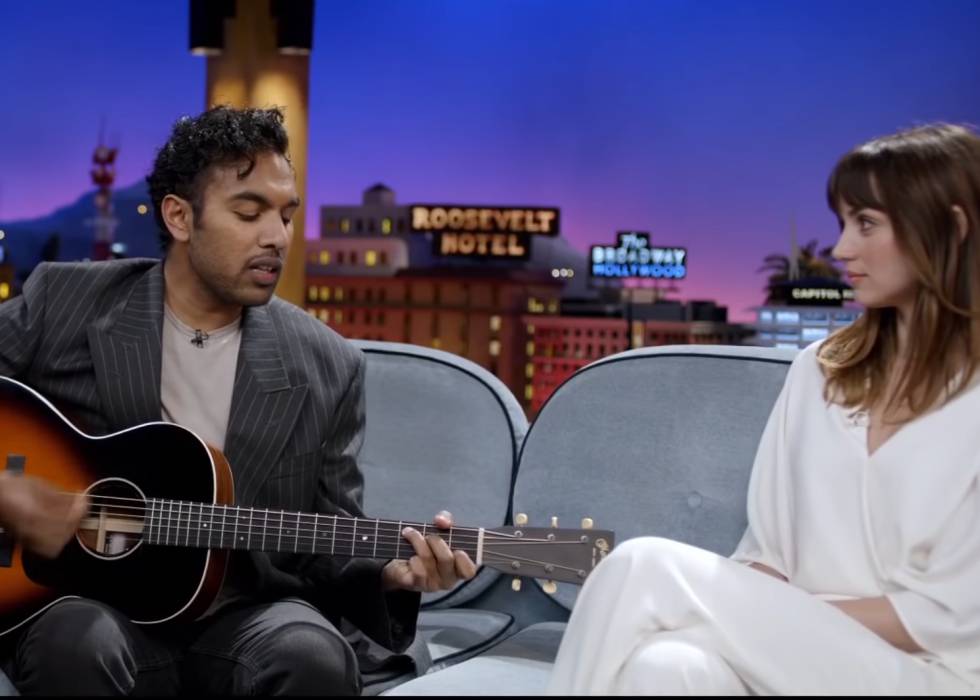 Hier, tout le monde connaissait les Beatles, mais aujourd'hui, seul Jack se souvient de leurs chansons. Il est sur le point de devenir extrêmement célèbre. Jack Malik est un auteur-compositeur interprète en galère, dont les rêves sont en train de sombrer dans la mer qui borde le petit village, où il habite en Angleterre, en dépit des encouragements d'Ellie, sa meilleure amie d'enfance qui n'a jamais cessé de croire en lui. Après un accident avec un bus pendant une étrange panne d'électricité, Jack se réveille dans un monde, où il découvre que les Beatles n'ont jamais existé… ce qui va le mettre face à un sérieux cas de conscience.
Je me rends compte que le terme de "charmant" en parlant d'un film risque de donner de l'urticaire à une partie de mes lecteurs, qui – surtout s'il s'agit d'un film de Danny Boyle – s'attendent à tout, sauf à une oeuvre charmante. Et pourtant, le nouveau film du réalisateur de "Trainspotting" possède toutes les caractéristiques d'une "feelgood comedy" traditionelle, qui ici se démarque par une histoire aussi farfelue qu'originale. Imaginer un monde, où personne n'a jamais entendu une chanson des Beatles ou bu un Coca Cola, ce n'es tpas donné à tout le monde, mais le scénariste Richard Curtis a osé…et ça fonctionne une fois qu'on a accepté le concept en tant que spectateur.  Il y a une très belle scène, dont je ne vous réveillerai pas le contenu, où Curtis et Boyle poussent leur nostalgie très loin, et c'est justement cette séquence qui m'a fait tomber amoureux d'un film à la facture un tantinet trop classique, mais qui vous mettra du baume au coeur. Grincheux et sceptiques, s'abstenir. Trois étoiles! (jpt)  
A hopeless songwriter wakes up to find he's the only person who can remember the Fab Four's hits in a wacky, winning comedy directed by Danny Boyle.  

Imagine no

Beatles

, it's not easy even if you try. No Yesterday, no Blackbird, no Sgt Pepper … and then … no Imagine, no all-time best Bond theme (Live and Let Die), no all-time best comedy band name (Ringo Deathstarr), no Concert for Bangladesh to inspire Live Aid,

no Withnail & I, no Life of Brian

– but then again, no

Charles Manson

. In a Beatle-less universe, Mike McGear could be

Bono

's producer and best mate and

Jeff Lynne

is president of the world. Screenwriter

Richard Curtis

's goofy, wacky, exasperatingly enjoyable fantasy-comedy riffs on ideas like these with a story co-written with Jack Barth – although it turns out

TV's Goodnight Sweetheart got to the idea first

. It is directed with dash and gusto by

Danny Boyle

. 

Maybe it shouldn't be any sort of evaluative factor, but the simple fact of hearing Beatles songs, the simple thought experiment of pretending to hear them for the first time, does carry a charge. And, although this film can be a bit hokey and uncertain on narrative development, the puppyish zest and fun summoned up by Curtis and Boyle carry it along. It's ridiculous and indulgent at all times, like Russell Crowe shouting his "Are you not entertained" line from Gladiator wearing a Beatles wig. Yet there is a weird and heavy backwash of sadness at the end, a kind of melancholy comedown, and I can't quite decide if that was intentional or not. (Peter Bradshaw/The Guardian) 
UNTOUCHABLE
Titre français : L'Intouchable (Harvey Weinstein); Documentaire; Réaisatrice; Ursula MacFarlane; USA 2019, 99 minutes;Sélection officielle Sundance Film Festival 2019. 
Une plongée au cœur de la saga la plus explosive de l'histoire du Cinéma. L'INTOUCHABLE raconte l'histoire de l'ascension et de la chute du magnat d'Hollywood Harvey Weinstein. Comment il a acquis et préservé sa toute-puissance au fil des décennies, même quand le scandale menaçait. D'anciens collaborateurs et plusieurs de ses accusatrices décrivent son mode opératoire, ainsi que les conséquences de ses abus sexuels présumés, dans l'espoir que justice soit faite et que les choses bougent enfin…
The rise and fall of Harvey Weinstein is recounted by some of the women he allegedly abused as well as colleagues who knew him and still feel the guilt in Ursula Macfarlane's documentary. We're living in a time when the news ecosystem is as densely crammed with tales of the perfidy of rich, powerful men as a square kilometer of Amazonian rainforest is packed with endangered life forms. Consequently, the shocking (albeit not entirely surprising within the industry) revelations about the predatory habits of Harvey Weinstein, recounted in director Ursula Macfarlane's scrupulous documentary "Untouchable",

almost feel like the fading echoes of an ancient supernova, one that exploded way back in the distant mists of October 2017. 

But the reverberations from Weinstein's alleged misdeeds can still be felt today through the evolving collective story of the #MeToo movement, as ever more public figures are pulled into the undertow, while older accusations are made new again with fresh revelations. See, for example, the recent allegations published this month about Bryan Singer, while in Sundance, where "Untouchable"

debuted, TV series "

Leaving Neverland" 

also screened for the first time, offering four hours' worth of detail about Michael Jackson's alleged sexual abuse of the young boys he groomed as "friends." Moreover, the Weinstein story is about to heat up again given that his trial, for charges of rape and two counts of predatory sexual assault, is scheduled to start in May. 

Told with clarity, respect and empathy, and not just for the women on whom Weinstein preyed, Macfarlane's film offers a timely and fascinating overview of his story, one that's almost emblematic of the pathology of serial sexual abusers. Former employees and colleagues from his earliest days in Buffalo as a music promoter and on through the early years of Miramax, the film company he founded with his brother Bob, recollect with justifiable admiration his passion for film, his good taste in material and his gift for marketing and making hits. Some are even willing to go so far as to admit that he could be undeniably charming and charismatic, but as one former executive notes, the flipside of that "genius" was a gluttonous appetite for power and pleasure." (Leslie Felperin/Hollywood Reporter) 
BRIGHTBURN
Titre français: L'Enfant du Mal; Film d'épouvante; Réalisateur: David Yarovesky; avec Elizabeth Banks, David Denman, Jackson A. Dunn; Scénaristes: Brian Gunn, Mark Gunn; Directeur/Photo: Michael Dallatorre; Musique: Tim Williams; USA 2019, 90 minutes.
Tori Breyer a perdu tout espoir de devenir mère un jour, quand arrive dans sa vie un mystérieux bébé. Le petit Brandon est tout ce dont elle et son mari, Kyle, ont toujours rêvé : c'est un petit garçon éveillé, doué et curieux de tout. Mais à l'approche de la puberté, quelque chose d'aussi puissant que sinistre se manifeste chez lui. Tori nourrit bientôt d'atroces doutes sur son fils. Désormais, Brandon n'agit plus que pour satisfaire ses terribles besoins, et même ses proches sont en grave danger alors que l'enfant miraculeux se transforme en un redoutable prédateur qui se déchaîne sur leur petite ville sans histoire…
"Superman" meets "The Omen" in "Brightburn," a watchable but super-silly mix of superheroics and evil-child horror that mashes together singularly uninspired ideas from both. Offering R-rated fantasy competition to "Aladdin" this Memorial Day weekend, it should do OK with undiscriminating audiences seeking familiar, forgettable genre thrills. But the franchise prayers that an open-ended fadeout dangles seem unlikely to be answered, unless they're heard in the realm of cheaper, direct-to-streaming sequels. Not that this hopeful kickoff is exactly deluxe, though it does rep a modest budgetary leap from helmer David Yarovesky's prior feature, 2014 sci-fi horror "The Hive." The advertising for "Brightburn" prominently bills James Gunn, "visionary filmmaker behind 'Guardians of the Galaxy.'" That it turns out he's just a producer here (relatives Brian and Mark Gunn are the scenarists) may lead to some annoyance among those expecting more than B-movie-level spectacle. (Dennis Harvey/Variety) 
YVES
Comédie; Réalisateur: Benoît Forgeard; avec William Lebghil, Doria Tillier, Philippe Katerine; Scénaristes: Benoît Forgeard, Alain Layrac; Directeur/Photo: Thomas Favel; Musique: Bertrand Burgalat, Mim & Tortoz; France 2019, 107 minutes;  Quinzaine des Réalisateurs Cannes 2019. 
Jérem s'installe dans la maison de sa mémé pour y composer son premier disque. Il y fait la rencontre de So, mystérieuse enquêtrice pour le compte de la start-up Digital Cool. Elle le persuade de prendre à l'essai Yves, un réfrigérateur intelligent, censé lui simplifier la vie…
Un rappeur abonné à la lose devient une star grâce à son réfrigérateur connecté… Une comédie décalée qui interroge la cohabitation intelligence artificielle et création artistique. Que cela soit dans "Gaz de France" (2015), dans lequel Philippe Katerine est un président de la République farcesque ou dans "Réussir sa vie* (2011), un film à sketches sur un réalisateur en crise, le cinéma de Benoît Forgeard se regarde un peu comme un gag de cinéma muet étiré à l'échelle d'un film : un homme marche (banalité de l'antihéros), il trébuche sur un obstacle (hors du commun) qui le projette en avant, accélère un temps sa trajectoire avant de le faire choir et de le voir se relever. (Les Inrocks) 
Kinepolis goes Bollywood
ARTICLE 15
Thriller; Réalisateur: Anubhav Sinha; avec Ayushmann Khurrana, Isha Talwar, Sayani Gupta, Kumud Mishra; Scénaristes: Gaurav Solanki, Anubhav Sinha; Directeur/Photo: Ewan Mulligan; Musique: Mangesh Dhakde; Inde 2019, 130 minutes; Film d'Ouverture London Indian Film Festival 2019.
Article 15 is an upcoming Indian crime thriller film directed by Anubhav Sinha produced by Zee Studios and Benaras Media Works. The film is based on Article 15 of the Indian Constitution, which prohibits discrimination on grounds of religion, race, caste, sex or place of birth. Article 15 takes inspiration from true life events, including 2014 Badaun gang rape allegations and 2016 Una flogging incident. Ayushmann Khurrana, the protagonist, is playing a police officer in the film. (Source: Wikipedia)
We are delighted to open our 10th birthday celebrations with the World Premiere of Anubhav Sinha's hard-hitting Article 15. India's hottest male star Ayushmann Khurrana (Andhadhun, Badhai Ho) plays a police officer from a privileged urban, international, background, whose very first posting is to rural north India, where three teenage girls have gone missing. His honesty does not sit well with the existing, deeply entrenched corrupt system where, in 2019, a 1000-year-old practice where human beings are divided on the basis of caste continues. Beginning as a riveting police procedural that is a True Detective like deep-dive into the Indian bayou, Article 15 soon elevates to a gutsy exposé of a deeply flawed structure. The film's title is a reference to an article of the Indian constitution that prohibits discrimination on the basis of caste, religion, race or sex. (Source: London Indian Film Festival)
Avant-Premières
THE SECRET LIFE OF PETS 2