Retour du film chinois SO LONG, MY SON qui avait sauté in extremis la semaine passée. Les cinéphiles qui aiment les films-fleuve se réjouiront de cette grande épopée "bouleversante" (selon Télérama) qui avait remporté deux Ours d'Argent à Berlin pour ses interprètes. Deux bêtes de scène, Mel Gibson et Sean Penn, toujours avides de scandales, s'affrontent dans THE PROFESSOR AND THE MADMAN, un film "sans réalisateur" qui a connu énormément de problèmes pendant le tournage. Dans LES PLUS BELLES ANNÉES D'UNE VIE, Claude Lelouch nous la joue nostalgique et ramène Anouk Aimée et Jean-Louis Trintignant, héros d'UN HOMME ET UNE FEMME (1966), devant les caméras. Bébête-show monstrueux pour deux crocodiles géants dans CRAWL d'Alexandre Aja. Et film allemand réservés aux toutes jeunes filles avec DIE DREI AUSRUFEZEICHEN. Voilà votre menu estival pour la semaine. Jean-Pierre THILGES
SO LONG, MY SON
Titre original: Di jiu tian chang; Drame familial; Réalisateur: Wang Xiaoshuai; avec Wang Jing-chun, Yong Mei, Qi Xi; Scénaristes: Ah Mei, Wang Xiaoshuai; Directeur/ Photo: Hyun-seok Kim; Musique: Yingda Dong; Chine 2019, 185 minutes; Ours d'Argent du meilleur acteur et de la meilleure actrice, Festival de Berlin 2019.
Au début des années 1980, Liyun et Yaojun forment un couple heureux. Tandis que le régime vient de mettre en place la politique de l'enfant unique, un évènement tragique va bouleverser leur vie. Pendant 40 ans, alors qu'ils tentent de se reconstruire, leur destin va s'entrelacer avec celui de la Chine contemporaine…
Chine, années 1980, celles de la politique de l'enfant unique. (…) Au loin, un enfant se noie. Cette première scène, terrible et lacunaire, ne cessera de hanter le film pendant trois heures. Le chagrin de la famille est d'autant plus tenace, envahissant, que la victime est fils unique : au début des années 1980, les parents ont dû appliquer, comme des millions d'autres, la politique de contrôle des naissances du gouvernement chinois (en vigueur jusqu'en 2015), réponse bureaucratique à la surpopulation et à la famine. Un seul enfant par couple, donc. "So Long, my Son" offre, entre autres, une reconstitution passionnante de cette époque, du point de vue de la classe ouvrière : familles massées dans d'immenses bâtiments sans âme, cérémonie de remise de diplômes aux parents ayant le mieux contribué à la lutte contre la natalité, répression des élans libertaires et hédonistes inspirés de l'Occident… (Louis Guichard/Télérama)
An epic melodrama that explores the consequences across three decades of China's onetime one-child policy (which lasted from 1979-2013), Wang Xiaoshuai's "So Long, My Son" (Di jiu tian chang) is an impressively structured time-hopping saga just over three hours long that's a little difficult to follow at the start. (…) The sadness of the enduringly thwarted pair permeates the mood of this, Wang's most ambitious if somewhat unwieldy film, which tends to follow its actors around at a lugubrious, somewhat studied pace but which builds considerable emotional momentum as it gradually fills in its deliberate blanks. Performances are variable but the two leads are top notch, particularly Yong Mei as the all-seeing Liyun. We do get a strong brooding sense of the unheeding sweep of revolutionary changes brushing married couples to one side like so much chaff, and the film is rich in visual texture and handles the ageing of its actors superbly well. It's not perhaps in the same history-reflecting league as Wang's Sixth Generation colleague Jia Zhang-ke's "Platform", nor is it as satisfying as his own "Beijing Bicycle", but it is an estimable achievement. (Nick James/Sight & Sound)

THE PROFESSOR AN THE MADMAN
Drame biographique; Réalisateur: P.B.Sherman (nom fictif), Farhad Safinia (nom éliminé du générique) ; avec Mel Gibson, Sean Penn, Natalie Dormer, Stephen Dillane, Eddie Marsan; Scénaristes: Farhad Safinia, John Boorman (!), Todd Komarnicki, d'après le livre de Simon Winchester; Musique: Bear McReary; USA/GB 2017-2019, 124 minutes.
La collaboration entre James Murray (Mel Gibson) un philologue écossais et W.C. Minor (Sean Penn), un médecin militaire interné dans un hôpital psychiatrique, qui allait aboutir à la création de l'Oxford English Dictionary…
Un film qui a eu énormément de problèmes durant le tournage et en postproduction: Dépassement de budget, procès entre Gibson et ses coproducteurs, film remonté par ces mêmes coproducteurs, nom du réalisateur enlevé du générique et remplacé par un nom fictif, autant vous dire que THE PROFESSOR AND THE MADMAN ne fera pas une grande carrière dans les salles. Cela dit, voir les deux ogres que sont Gibson et Penn s'affronter, pourrait être un privilège rare. (jpt)
Mel Gibson's problem-plagued project finally gets released with an invented director's name and a minuscule chance of earning much money. Back in 1998 when Simon Winchester's book "The Professor and the Madman

" was published, a film version was already imagined by quite a few reviewers, spurred on not only by the subject's eminently dramatic trajectory but also by

Mel Gibson

's much publicized interest. It seemed implausible: Gibson wasn't the obvious choice for a Victorian-era biopic about James Murray, the man commissioned to bring the Oxford English Dictionary (OED) to life, but his involvement made it more likely that a dictionary compiler's story could be packaged as something marketable to a general public. The star decided not to direct, novice filmmaker

Farhad Safinia

was brought in, and shooting wrapped in 2016. That's when grumblings began to be heard publicly.

Officially, Safinia and Gibson wanted to add a few weeks of shooting at Oxford University to boost the authenticity (the lion's share of the film was made in Dublin, with Trinity College standing in for Oxford). Voltage Picture's CEO Nicolas Chartier balked, complaining they'd already gone over-budget and exceeded the agreed-upon running time. The star and his company Icon Prods. sued to prevent the film's release but lost, and Safinia's name was summarily removed from the credits, replaced by the fictive P.B. Sherman, in the version that quietly trickled into a few international markets. For those that have been anticipating this curious, much-delayed oddity, the good news is that Gibson is fine; it's everything else that doesn't work. (Jay Weissberg/Variety)
The film's only real draws are Gibson and Penn, who come at the material from opposite ends of the acting philosophy spectrum. Gibson turns in another understated, late-career performance that sees him leaning into his age. His Murray is dignified and driven, never showing it but always feeling he has something to prove among PhDs. Penn, on the other hand, is channeling Nicolas Cage at his most manic, but without the self-aware sense of purpose — or fun, depending on context — that goes with that, and his Rasputin-lite performance fizzles into incoherent drivel too often to be considered nuanced. It's simply confounding, much like the rest of the movie. (Elizabeth Kerr/The Hollywood Reporter)
LES PLUS BELLES ANNÉES D'UNE VIE
Comédie romantique et dramatique; Réalisateur: Claude Lelouch; avec Anouk Aimée, Jean-Louis Tirntignant, Marianne Denicourt, Souad Amidou, Monica Bellucci; Scénaristes: Claude Lelouch, Valérie Perrin; Directeur/Photo: Robert Alazraki; Musique: Francis Lai, Calogero; France 2019, 90 minutes; Sélection officielle Festival de Cannes 2019.
Ils se sont connus voilà bien longtemps. Un homme et une femme, dont l'histoire d'amour fulgurante, inattendue, saisie dans une parenthèse devenue mythique, aura révolutionné notre façon de voir l'amour. Aujourd'hui, l'ancien pilote de course se perd un peu sur les chemins de sa mémoire. Pour l'aider, son fils va retrouver celle que son père n'a pas su garder, mais qu'il évoque sans cesse. Anne va revoir Jean-Louis et reprendre leur histoire où ils l'avaient laissée…
Chabadabada, flonflons, Francis Lai (+), Claude Lelouch, Anouk Aimée, Jean-Louis Trintignant, Un Homme et une femme, 53 ans plus tard, nostalgie quand tu nous tiens. Jw nep eux pas dire que Claude Lelouch compte parmi mes cinéastes de chevet, mais revoir Jean-Louis Trintignant et Anouk Aimée, c'est toujours un plaisir qui ne se refuse pas. (jpt).
Un séduisant tête-à-tête autant qu'un émouvant hommage au septième art. (Télérama) Loin d'être une œuvre funèbre, cet hymne à la vie et à l'amour, émouvant et gai, est irradié par la malice de Jean-Louis Trintignant et la beauté lumineuse d'Anouk Aimée. (La Croix) C'est une relation tendre, légère et loufoque qui anime les deux personnages, dont la vieillesse et les regards émeuvent. On peut toutefois regretter que la bande-son soit aussi pesante, ramenant les personnages dans le passé, alors qu'ils voudraient tant vivre au présent. (Le Monde) Ce qui pourrait être agaçant prend lentement la forme d'une ritournelle, d'une prière, d'une méditation, d'une psalmodie. Le spectateur tombe dans une faille de l'espace-temps, ou plus simplement dans un état mental proche de l'hypnose. Ce qui n'est pas désagréable. (Les Inrocks) Deux grandes vies de comédiens glissent soudain sur leurs visages mélancoliques comme des nuages pommelés sur la plage de Deauville. Tout le reste est une suite inutile de leloucheries. Mais, pour cet instant magique où se reforme sous nos yeux, et sans illusions, le couple d'autrefois, où les regards d'Anouk Aimée et de Jean-Louis Trintignant transpercent le temps, il faut voir ce film. (Le Nouvel Observateur)
CRAWL
Film d'épouvante; Réalisateur: Alexandre Aja; avec Kaya Scodelario, Barry Pepper, Morfydd Clark, Ross Anderson; Scénaristes: Michael & Shawn Rasmussen; Directeur/ Photo: Maxime Alexandre; Musique: Max Aruj, Steffen Thum; USA 2019, 88 minutes.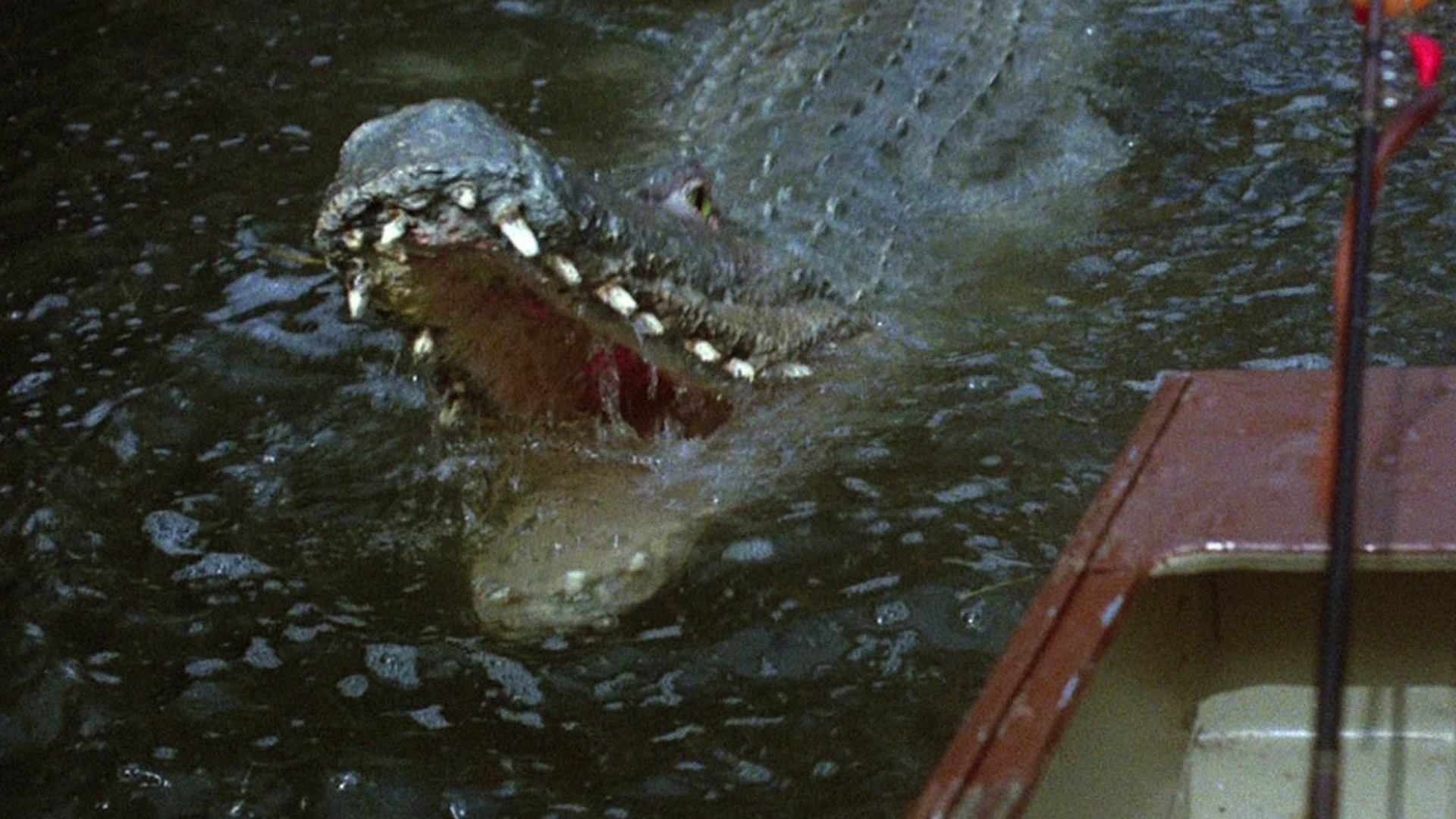 Quand un violent ouragan s'abat sur sa ville natale de Floride, Hayley ignore les ordres d'évacuation pour partir à la recherche de son père porté disparu. Elle le retrouve grièvement blessé dans le sous-sol de la maison familiale et réalise qu'ils sont tous les deux menacés par une inondation progressant à une vitesse inquiétante. Alors que s'enclenche une course contre la montre pour fuir l'ouragan en marche, Haley et son père comprennent que l'inondation est loin d'être la plus terrifiante des menaces qui les attend…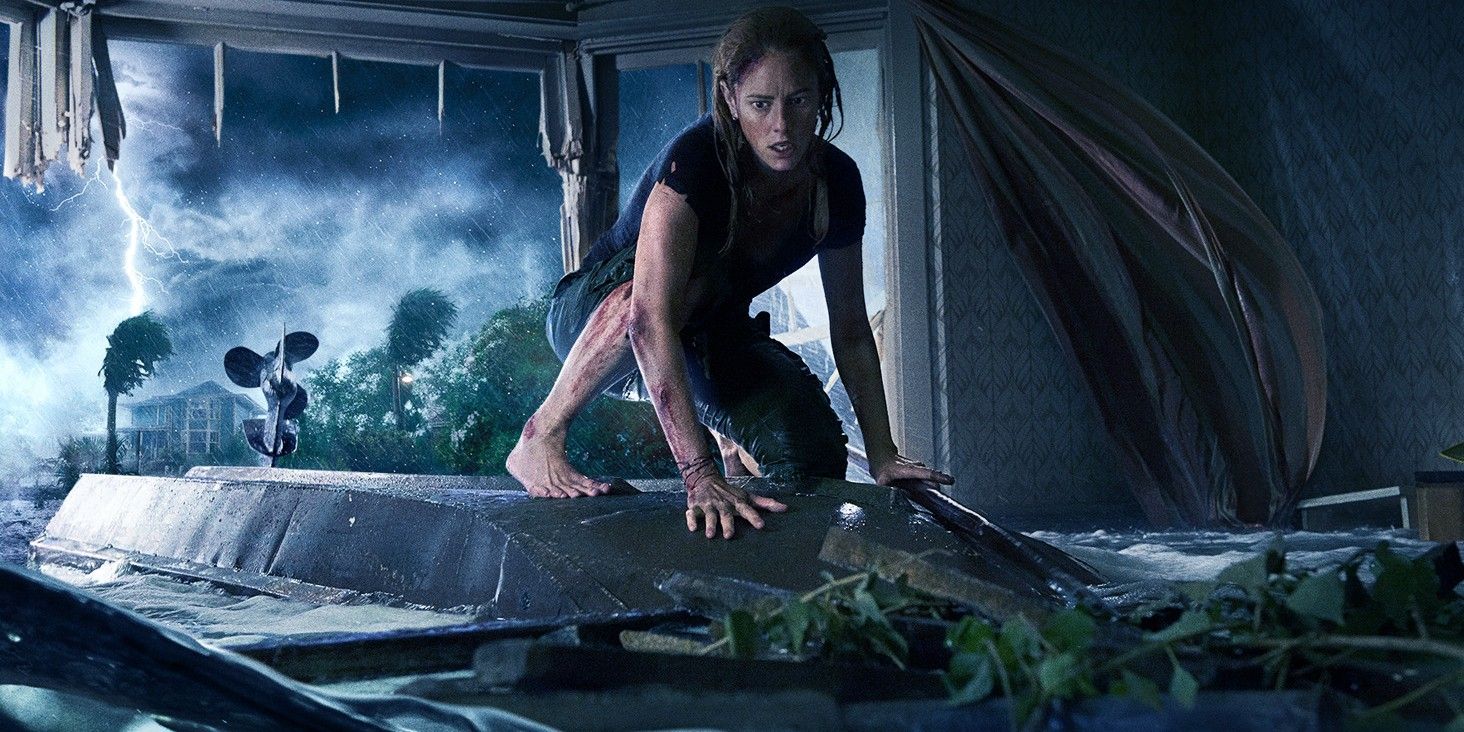 Dropped into the never-ending deluge of films that feature supernatural evil, grandiose comic-book villainy, or mad slashers who might as well be supernatural, "Crawl" devotes itself to a force of terror so stubbornly of this earth that it may strike Saturday-night audiences as faintly exotic. The movie, a scaled-down and waterlogged thriller, is built around a deadly attack of alligators — big, long wriggly ones that emerge during a category-five hurricane in southwest Florida. The director, Alexandre Aja ("High Tension," "The Hills Have Eyes"), brings the critters to life through a combination of digital imagery, scale models, and (maybe) real-life alligators, all which add up to an impressively believable image of natural-born chomping fear. These gators look like real gators just as much as the current Godzilla looks not like a rubbery special effect but like an actual…uh, Godzilla. (Owen Gleiberman/Variety)

DIE DREI !!!
Die drei Ausrufezeichen; Jugendfilm; Regie: Viviane Andereggen; mit Lilli Lacher, Alexandra Petzschmann, Paula Renzler, Jürgen Vogel, Armin Rohde; Drehbuch: Sina Flammang, Doris Laske; Kamera: Martin Langer; Musik: Riad Abdel-Nabi; Deutschland 2019, 99 Minuten.
Die drei Nachwuchsdetektivinnen Franzi, Kim und Marie sind trotz all ihrer Unterschiede ein eingespieltes Team und halten zusammen wie Pech und Schwefel. Als sie in den Sommerferien gemeinsam an einem Theaterprojekt teilnehmen, kommt es bei den Proben zu "Peter Pan" schon bald zu seltsamen Vorfällen. Da schallen plötzlich gruselige Geräusche aus dem Saal, Kostüme werden zerschnitten und Drohbotschaften auf Spiegel geschmiert. Ob es sich tatsächlich um einen Spuk handelt oder ob jemand mit sinistren Aktionen dem Theater schaden will, wollen die Drei !!! auf eigene Faust herausfinden, und beginnen mit ihren Ermittlungen…
Im Jahr 2006 erschien der erste Fall von DIE DREI !!! als Buch, im Jahr 2009 folgte das erste Hörspiel. Seitdem wurden über 70 Fälle veröffentlicht, die Reihe erfreut sich großer Beliebtheit. Nun zeigt Regisseurin Viviane Andereggen mit ihrer Verfilmung, dass die Abenteuer von Sportskanone Franzi, der Leseratte Kim und der modebegeisterten Marie auch auf der großen Kinoleinwand bestens funktionieren. Die drei jungen Darstellerinnen ergänzen einander und man glaubt ihnen, dass sie als unzertrennliche Freundinnen jedes Abenteuer gemeinsam bestehen können. Mit Jürgen Vogel als seltsamem Schauspiellehrer ist dem Film ein besonderer Besetzungscoup gelungen, denn man merkt ihm in jeder Szene an, mit wieviel Spielfreude er seine Rolle ausfüllt. Bis zum überraschenden Showdown wartet der Film mit immer neuen Wendungen auf und bleibt so bis zur letzten Minute spannend. Dass die Mädels am Ende ganz allein und ohne die Hilfe von Jungs oder Erwachsenen den Fall lösen, ist eine starke und wichtige Botschaft für die Zielgruppe, die hier großartige Heldinnen findet, mit denen sie sich identifizieren kann. Ein verspielt ausgearbeitetes Setting, ein stimmungsvoller Soundtrack und viele originelle Einfälle machen Lust auf mehr Abenteuer der DREI !!! (Filmbewertungsstelle Wiesbaden)

Dernière minute: Kinepolis goes Bollywood